Exclusive Rehabs
Exclusive drug rehab, or luxury rehab, uses some of the same treatment methods as traditional rehab programs, but they also include a myriad of additional services intended to aid in recovery. Exclusive rehabs are more costly than traditional rehab, but they also provide a more comfortable, private addiction recovery experience.
Services You May Find at Exclusive Rehabs
Exclusive rehabs provide all of the services found in traditional treatment, in addition to other alternative, luxury treatments. The main differences with luxury exclusive rehabs are their facilities, which are usually top-of-the-line and luxurious, the availability of holistic treatments, and the possibility to take part in fun and exotic activities and experiences.
What Sets Luxury Rehab Apart from the Rest?
Geographic location and facility. Exclusive rehabs are normally set in luxurious settings, such as beach locations or in the countryside. These settings make possible some of the activities that are offered as well. The facilities are often very well-kept, with groomed landscaping and comfortable, trendy furniture.
Activities. Exclusive rehabs are likely to offer great activities that are meant to foster healthy lifestyles. Activities offered in exclusive rehabs may include:
Swimming
Equine therapy
Horseback riding
Hiking
Bike riding
Yoga
Tai chi and martial arts
Art therapy
Animal therapy
Amenities. Exclusive rehabs are also set apart by the amenities they offer. They may include:
Gourmet meals
On-site chef
Room service
Massage and other spa services
Private rooms
Private workspaces
Gym/exercise room
Personal trainers
Movie theatre
Acupuncture
Types of Treatment at Exclusive Rehab Centers
The methods, amenities and features described above are the things that set luxury rehab centers apart, but they also provide traditional treatment options. While each particular rehab may do things a little differently, the treatment methods at the core of exclusive rehabs are, as in most other centers, counseling and medication therapy. The inclusion of medication therapy is based on what kind of substance abuse or mental health challenges a person is facing.
Counseling is an important part of addiction recovery, as it helps people understand the consequences of their addiction, explore and cope with possible causes, and learn the skills necessary to prevent relapse.
Exclusive rehabs also have a more patient-centered approach where they have the resources and ability to tailor treatments to each individual patient and the problems that that patient faces. Individuals who face substance abuse issues are often affected by mental health conditions as well, and effective treatment must address that. This goes both ways, as people with mental health disorders often abuse substances, also necessitating treatment that addresses all facets of an individual's condition.
Medication in Addiction Treatment Centers
Medication is often an important part of substance abuse and mental health treatment, and may be one of the aspects of treatment found in luxury rehab as well. Depending on each individual's case, medication may be important during the withdrawal and detox stage and/or the treatment and relapse prevention stages of treatment.
Withdrawal. During the withdrawal stage, medication can help suppress and alleviate negative symptoms. In opiate addiction treatment, for example, medications like methadone, buprenorphine, and Suboxone may be administered, and will likely continue throughout treatment. In alcohol treatment, other medications may be used.
Treatment. According to the National Institute on Drug Abuse, medications are used at this stage to help re-establish normal brain function, prevent relapse, and diminish cravings. Recovering from an addiction to opioids, tobacco, and/or alcohol will very likely involve medication at this stage.
Behavioral Treatments and Counseling
Counseling is an integral part of all substance abuse and mental health treatment at both traditional and exclusive rehabs. They help to engage people in their treatment, modify attitudes and behaviors that lead to problematic situations, and increase healthy lifestyle skills that are necessary to recovery. Many of the types of counseling in rehab are offered in both one-on-one and group settings.
Cognitive-Behavioral Therapy (CBT). CBT helps people to understand patterns of thought, belief, and behavior that lead to drug use or other unwanted actions. Through this understanding, counselors use CBT to help patients avoid situations and other things that would compromise their recovery.
Motivational Interviewing. Motivational interviewing uses techniques and direct methods to help develop the motivation for a person's recovery. This is important and can help with their involvement in the entire treatment process.
Contingency Management. Contingency management is another type of motivational therapy that uses incentives to help people stop using substances or engaging in any other problem behavior. Patients are rewarded for clean drug tests and for achieving other goals set by the counselor in treatment.
Family Therapy. Family therapy incorporates a person's family and close friends into their treatment. This can be important in helping people both during and after treatment, where they need support in achieving and maintaining their recovery.
The Importance of Good Nutrition in Recovery
The luxury rehab difference is created through all of the additional amenities they provide, a big one of which is proper and gourmet nutrition. This is not just desirable because it is luxurious, but also because it can truly help in recovery.
People who are affected by addiction and substance abuse tend to have poor eating habits, and their bodies are not in good shape. According to the US National Library of Medicine, recovery from substance abuse affects the body in more ways than one, mainly the metabolism, organ function, and mental well-being of individuals. Paying attention to your diet and nourishing your body can ensure that all of these things function properly. In addition, when people feel better they are less likely to start using drugs and alcohol again, and having a balanced diet improves mood and health.
The fact that luxury exclusive rehabs include services and activities that promote a healthy diet is an important and truly helpful aspect for recovery.
Exercise and Addiction Recovery
Many of the additional services at luxury rehab centers also involve exercise and physical activity. As with nutrition, this is not only because activity is fun, and because things like swimming are relaxing and luxurious to an extent, but also because exercise aids in recovery.
A study found in the US National Library of Medicine outlines the following benefits of exercise in addiction recovery:
Provision of pleasurable states without the use of substances
Reduction of depressive symptoms and negative mood
Increasing of self-efficacy and self-empowerment
Providing positive alternatives to substance abuse
Decreasing stress reactivity and improving coping
Decreasing urges to engage in substance use
Essentially, exercising and developing a pattern of physical activity provides many benefits to recovery. It keeps people occupied and provides things to do instead of substance abuse, which may be hard to adjust to in the beginning of recovery. Exercise is a stress-reliever, and helps people release endorphins which are natural feel-good hormones
The provision of exercise-related and physical activities in exclusive rehabs is very helpful to a person's recovery, and helps with the transition from a life of substance abuse to a healthier life.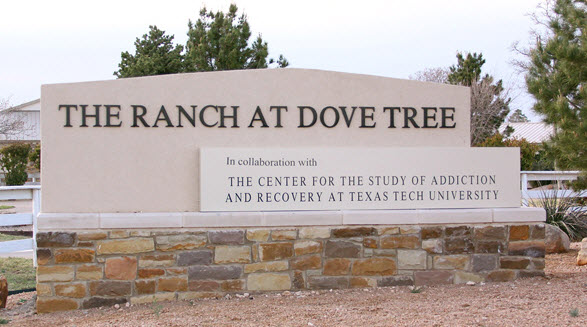 Salt-of-the earth friendliness and down home hospitality aren't just West Texas stereotypes at The Ranch at Dove Tree, a treatment center located on 15 acres near Lubbock.
Details ›
Merriam Webster defines "Paradigm" as a theory or a group of ideas about how something should be done – a fitting definition for this unique, multifaceted treatment program for adolescents.
Details ›