Drug & Alcohol Treatment
Struggling with drug addiction is a challenging, heart wrenching, depressing and miserable—but there is help! Recovery, though it may seem like an impossible feat, is a possible solution that can be achieved with the right help and support. Although you may feel as if you cannot change, no matter how hopeless your situation may seem, addiction doesn't have to be the end of the road for you.
Recovering from drug or alcohol addiction will be challenging at best but not impossible. Plagued by pitfalls, constant setbacks and hurdles that seem taller than the highest mountain, recovering from drug or alcohol addiction is likely to be the most challenging task you ever take on—but your decision to change and to get sober could be a life changing decision that leads you down a path of happiness, healing and the long term sobriety that you've dreamed of.
The Decision to Change
The first step to recovery from drug or alcohol addiction is to make the decision to change your ways and to get sober. This is often the most challenging decision as users struggle with the conflicting feelings about sobriety, withdrawal, commitment and the general changes necessary to facilitate recovery from drug or alcohol addiction.
Once you make the decision to change, you can begin to think about treatment for drug or alcohol addiction and how it can help you. Fortunately, there are many different treatment options now available to make your recovery a smooth, safe, and effective process. Don't be afraid to make the necessary changes to get the help that you need.
Recognizing the Need for Help
Not everyone will realize that they even need treatment for drug or alcohol addiction. If you or someone you know is abusing drugs or alcohol, these are some of the surefire signs that it's time to make the decision to change and to seek professional help:
You have little or no control over your drug or alcohol use.
You have lied to friends or family members about your drug or alcohol use.
You have lied to yourself about your drug or alcohol use.
You have tried to cut back but failed.
You have changed the friendships that you have in an effort to spend more time with people who drink or use drugs.
You feel ashamed or saddened by your drug or alcohol use.
You want to get sober but your don't know where to start.
The first step to getting treatment for drug or alcohol addiction is to recognize the need for change and to take action for your addictive behaviors. It's a difficult step to take, admitting that you have a problem and need help, but when you make the decision to seek treatment you are quickly putting yourself into a situation in which healing and recovery can begin and the old ways of addiction can become a thing of your past.
Drug & Alcohol Treatment Options
Drug and alcohol addiction treatment options exist to help those who are struggling with physical and psychological dependence to get their lives back on track. It's important to realize that there is no one-size-fits-all method of addiction treatment that will work for everyone. Women respond different to treatment based on their individual needs, their lifestyle, their health and various other factors. When exploring the various drug and alcohol addiction treatment options that are available to assist you in recovery, remember:
There are many different treatment and rehabilitation programs available to assist you—if you don't like one, try another.
You're more than just an addict—and your treatment should reflect an understanding that you need to be treated as a whole not just as an addict. Look for a treatment program that will address your individual health, your emotional health, your psychological well-being and other aspects of your life.
Stress is a major player in addiction—look for a treatment program that will provide you with stress reduction techniques that will aid in your long term recovery.
Remaining committed is a very important key to getting sober. If you fall off the path of sobriety and relapse, do your best to pick up where you left off and get back on track.
There are a variety of different options available to assist you in getting sober—you may try inpatient drug or alcohol treatment, outpatient treatment, support groups, counseling, therapy or a combination of all of these types of help.
Medical and psychological issues that are causing problems in your life or which may interfere with your recovery should also be treated—don't overlook an underlying issue or think it will go away on it's own—now is the time to get the help that you need.
Types of Treatment
In your quest to get sober, you'll find that there are many different types of treatment available to assist you. The most common methods of treatment include:
residential treatment
outpatient treatment
support groups
detox
sober living homes
According to the National Institute on Drug Abuse, "a continuum of care that includes a customized treatment regimen—addressing all aspects of an individual's life, including medical and mental health services—and follow-up options (e.g. community—or family-based recovery support systems) can be crucial to a person's success in achieving and maintaining a drug-free lifestyle." As such, most effective drug and alcohol rehabilitation programs focus on helping patients to regain control over their health and to achieve recovery through a series of support, medical care, counseling and therapy.
Detoxification
The first step in recovering from alcohol or drug addiction is to spend some time in a detox program in which you will receive proper medical intervention to prevent further recourse as a result of withdrawal. During detox you will likely be provided with medications that will help to curb cravings, prevent withdrawal symptoms or at least ease the symptoms of withdrawal while you are in the earliest days of the recovery process.
Many detox programs are provided in a residential setting to allow patients the safety and peace of mind of being monitored around-the-clock. This is especially true for many alcohol detox programs as well as certain drug detox programs such as those which focus on helping patients to overcome heroin or opiate addiction or certain types of prescription drug addiction.
Counseling & Therapy
Whether you attend residential treatment or you seek the help of an outpatient program, counseling and therapy will play a key role in your recovery. There are many different types of counseling and therapy offered to help patients recover from their addictive behaviors including:
family counseling
group counseling
individual counseling
behavioral therapy
cognitive-behavioral therapy
multidimensional family therapy
motivational interviewing
motivational incentives
Everyone is Different
It's important to realize that everyone is different and that there's no specific method of treatment that is guaranteed to help you overcome addiction. It may take one method of treatment or multiple methods of treatment to help you achieve the success you're looking for in making a full and lasting recovery from addiction. Some people find that residential treatment works best while others do quite well in outpatient treatment. Ultimately, the methods of treatment and therapy that work best for you will depend on your own individual needs, your health, your commitment to recovery and a wide range of other personal factors.
Drug & Alcohol Treatment Support
Reaching out for supportive care when you're addicted to drugs or alcohol will be a key player in your ability to recover quickly and to remain sober. It's important to recognize that you don't need to attempt to achieve sobriety on your own without any help—there are a number of different support options available to assist you in getting sober and in staying sober for the rest of your life.
Positive influences in life can go a long way in helping you to stay positive about yourself and your recovery. The more positive influences you can put into your life, the stronger you will be in recovery. In treatment, you will gain access to a number of support systems that can help you to stay sober even when you have completed treatment and life returns to normal. Often times, addicts find the people that they will later decide to turn to for encouragement and help right in treatment.
Where to Turn for Support
You may not know where to turn for help at first, but in time, you'll build a strong support network that will be able to assist you in staying sober. If you're still not sure where to turn for support, consider:
asking a friend or family member for help
talking with a relative or loved one
discussing your situation with a social worker
asking your pastor, priest or another member of the clergy for help
building a sober social network with friends and family who you can talk to when you need guidance or reassurance
talking with members of your church or a special community group
attending a support group where there are others in recovery who are willing to support you
Making Support a Priority
It's very important that you find a way to make support a priority in your recovery efforts. Much of the support that you will need can be found in support groups such as Narcotics Anonymous or Alcoholics Anonymous. Various other recovery support groups also exist to help those in recovery from particular types of drug addiction, to help the family members of those suffering from addiction and to help those suffering from types of mental illness, tragedy or loss.
You will benefit greatly from the shared experiences that take place in community support groups. Members of these groups often build lifelong friendships and help one another throughout many years of recovery ups and downs. Making support a priority in your life is one of the first steps you can take toward instilling sobriety and success into your future.
Drug & Alcohol Treatment Relapse Prevention
One of the greatest benefits that will come from drug and alcohol treatment is the techniques that you will learn to avoid relapse and to stay sober. Relapse prevention will include an array of different techniques and tricks that are aimed at helping you to continue to remain sober and to do whatever it takes to prevent yourself from using drugs or alcohol.
During treatment, you will learn how to cope with stress and to avoid triggers that would otherwise lead you to abusing drugs or alcohol. Face it, long after treatment is complete you will still be faced with the triggers and temptation to use drugs or alcohol—a bad day may make you crave the substance of choice, a death in the family may occur leading you down a whirlwind road of depression and sadness in which you simply want to dull the pain, you may see an old friend who used to use drugs with you and the "grass" may seem greener on the other side—but it's not!
Relapse prevention is all about recognizing these triggers and the temptations that you are faced with every single day of your sober living and learning how to avoid the use of drugs or alcohol by effectively coping with the triggers and temptations in a safe and sober manner. Some of the strategies you will learn in treatment to avoid stress or to cope with stress include:
recognizing when to walk away
learning breathing techniques to help ease stress
visualizing happy thoughts and removing yourself from the situation
learning how to calm down
recognizing triggers and avoiding them
Staying Sober
Getting sober is just the first step of recovery—the long and trying step is to learn how to stay sober. Once you're sober, it will take time for your brain and your body to recover from the wounds that were inflicted as a result of the addiction. As you allow your body to adjust, there are some steps that you can take to stay sober. Follow these steps to help you stay sober and achieve your goals:
avoid friends that you used to spend time with while using drugs or alcohol
make new friendships with people who don't abuse drugs or alcohol
avoid situations in which drugs or alcohol are being used such as at bars, nightclubs or parties
discuss your past drug use or alcohol use problems with your doctor to ensure you are not prescribed medication that could put you at risk of relapse
don't feel humiliated or ashamed about your past, focus on your recovery and your future
be cautious when taking prescription medications to avoid relapse or danger
talk about cravings with those you care about to help get the negative feelings off your chest
cope with urges by chewing gum or taking part in a healthy activity
get distracted by reading, taking part in a new hobby, exercising or doing something fun
set goals that are realistic and achievable
Remember, relapse happens—if it does, do your best to pick up the pieces and get your life back on track. Overall, your recovery will be a journey that you spend the rest of your life strolling through. There will be ups and downs but if you stay committed, sobriety will become a new way of life.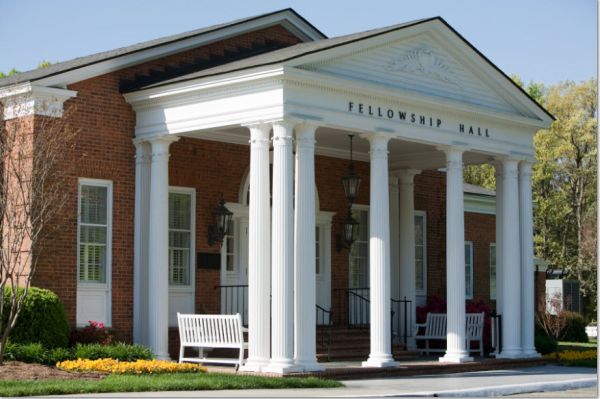 You're not a resident or a client at Fellowship Hall, and you're definitely not a patient. You're a guest. Whatever the terminology, miracles happen at this treatment center snugly situated amidst the gently rolling hills of North Carolina's historic Piedmont area.
Details ›
Serenity and tranquility are elemental at this ultra-comfortable, luxury treatment center nestled at the base of Utah's Wasatch Mountain Range in Sandy, Utah.
Details ›
A variety of treatment methods firmly rooted in sound research provide solid ground for healing at this high desert treatment center located north of Tucson.
Details ›