Telltale Signs of Oxycodone Abuse
Within the last decade, opiate-based drug addictions have taken center stage with scores of people getting hooked on prescription pain relief medications. Oxycodone ranks as one of the most addictive opiates on the market.
Not surprisingly, the risk of oxycodone abuse remains regardless of whether a person takes the drug for treatment purposes or recreational use. While the potential for oxycodone abuse increases exponentially for recreational users, someone who takes this drug to reduce symptoms of pain can just as easily fall prey to oxycodone's effects.
Telltale signs of oxycodone abuse happen gradually over time as the drug impairs the brain's chemical functions. From there, a person starts to experience physical signs of oxycodone abuse. Before long, psychological symptoms develop, at which point addiction has likely taken hold. In effect, signs of oxycodone abuse continue to worsen in intensity until a person gets needed treatment help.
Oxycodone Effects
Opiate drugs as group are known for their ability to interfere with brain chemical outputs. As one of the more potent drugs in this group, oxycodone causes considerable disruption within the brain's overall chemical system.
Oxycodone's effects target the brain cells responsible for secreting dopamine and serotonin neurotransmitter chemicals, according to the University of Maryland. Neurotransmitters act as chemical messengers, relaying information from one area of the brain to another. Oxycodone causes brain cells to secrete unusually large amounts of these chemicals.
Over time, these fluctuations in brain chemical levels cause chemical imbalances to form. Telltale signs of oxycodone abuse develop out of these chemical imbalances.
Oxycodone Uses
Oxycodone use as a pain treatment comes with certain drawbacks that ultimately predispose a person to oxycodone abuse practices. In effect, oxycodone's effects only muffle pain sensations while the actual pain source remains unaffected. This mechanism of action automatically places a person at risk, even when following prescription guidelines.
When used for recreational purposes, oxycodone's pain-relieving effects help to relieve any emotional and/or psychological turmoil a person may be experiencing. As a recreational drug, oxycodone's effects on brain chemistry operate on a completely different level, as users tend to ingest the drug on an "as-needed" basis. Under these conditions, signs of oxycodone abuse develop at a much faster rate.
Signs of Tolerance Level Changes
Tolerance level increases mark the first telltale sign of oxycodone abuse. Increases in tolerance level happen in the brain as cells lose their sensitivity to oxycodone's effects. For people taking the drug as a pain treatment, pain symptoms will start to flare up as tolerance levels increase. When used for recreational purposes, a tolerance level increase lessens the "high" effect experienced.
Increases in tolerance levels result from deteriorating or weakening brain cell structures. This deterioration not only affects cell structures, but also their ability to function overall.
Short of going to the doctor and being switched to a different medication, the only way of counteracting tolerance level increases is to take larger doses of the drug, which is what many people do. While effective, this short-term remedy begins the downward spiral into dependency and addiction.
Signs of Physical Dependency
Once a person's tolerance levels start to rise, signs of physical dependency are soon to follow. Oxycodone abuse naturally breeds physical dependency as brain cell functions deteriorate with ongoing use.
Signs of physical dependency can vary depending on a person's overall health status. This means, people with pre-existing medical ailments, such as digestive problems, a weak immune system or even a condition like diabetes, will likely experience increasingly more dysfunction in these areas.
Over time, signs of physical dependency can take any number of forms, some of which include –
Headaches
Loss of appetite
Profuse sweating
Chills
Dizziness
Irritability
Fatigue
More commonly known as withdrawal effects, these signs result from the brain's inability to regulate bodily processes as normal. The brain chemical imbalances brought on by oxycodone abuse also work to trigger withdrawal episodes.
Considering oxycodone's high potency effects, someone who engages in oxycodone abuse for over a week can start to see signs of physical dependence develop. Likewise, these symptoms only increase in severity the longer engages in oxycodone abuse. For long-time users, withdrawal episodes occur with greater frequency to the point where a person's body remains in a state of perpetual withdrawal.
Signs of Psychological Dependence
As always, normal mental health relies heavily on an ongoing chemical equilibrium in the brain. Much like the effects of oxycodone abuse warp physical bodily processes, it can do even more damage within a person's psychological make-up.
With brain cells secreting unusually high levels of neurotransmitter chemicals on an ongoing basis, it's only a matter of time before the brain becomes depleted and unable to produce needed neurotransmitter supplies. The effects of oxycodone abuse on the brain's reward system also come into play as this region relies heavily on stable dopamine level outputs.
The brain's reward system dictates learning and motivation processes. In effect, surges in dopamine levels work to reconfigure this system. Before long, oxycodone abuse will drive a person to organize his or her entire lifestyle around getting and using the drug, according to Loyola University.
Signs of psychological dependency typically take the form of –
Depression
Anxiety
Paranoia
Muddled thinking processes
Neglecting work and family obligations
Loss of interest in once enjoyed activities
Money problems
Problems with the law
When to Consider Getting Help
As telltale signs of oxycodone abuse tend to develop gradually over time, it's often difficult for users to spot these signs on their own. More oftentimes than not, friends and loved ones will pick up on signs of drug abuse before the actual drug user does.
Ultimately, the negative consequences brought on by ongoing drug use become the best indicators that a person needs professional treatment help. As oxycodone's effects will only worsen with continued use, the sooner a person gets help the better.
Without needed treatment help, users remain inside a self-perpetuating cycle of addiction. Serious medical and psychological disorders start to develop leaving a person in an even more vulnerable state in terms of the drug's effects on his or her life.
Housed in a collection of historic homes surrounding a common courtyard, Right Step Houston nestles comfortably into the tree-lined streets of the city's hip Montrose neighborhood.
Details ›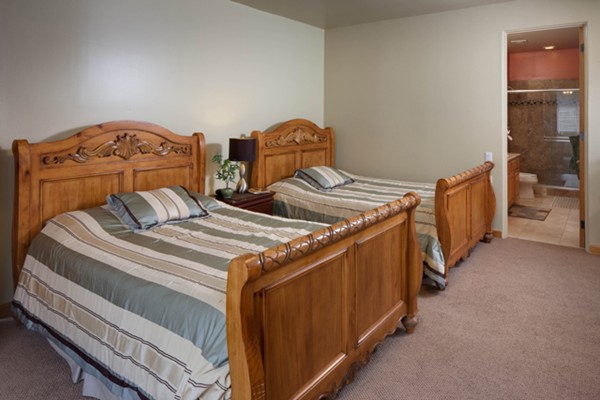 At this peaceful treatment center in upscale Scottsdale, residents learn how to enjoy all that life has to offer – without the assistance of drugs and alcohol.
Details ›
Merriam Webster defines "Paradigm" as a theory or a group of ideas about how something should be done – a fitting definition for this unique, multifaceted treatment program for adolescents.
Details ›