Alcoholism Among Women Greatly Differs from Alcoholism Among Men
Women and men differ in many ways. There are core biological differences, but there are also societal expectations and teachings tied to gender. Both of these contribute to the variances between alcohol abuse and alcoholism between men and women.
Of course, both face risks to their health and personal lives without regard to their gender. But both the factors that lead to alcohol addiction and the consequences of that abuse contrast. It's imperative that treatment programs recognize and address these differences.
In a women's rehab program, the staff are experts in the female alcoholic's experience and concerns. This allows them to treat patients with a depth and understanding not possible in rehab that caters to all genders.
To learn more about the role that women's rehab can play in treating your alcohol use disorder, call 888-821-1257 Who Answers?. You can speak to an expert who understands you and your individual concerns. Don't settle for less. Call now.
The Biological Factors
The actual physical make-up of women establishes a stark contrast to men when it comes to alcohol use. In general, women weigh less than men, which points to a lower acceptable consumption.
However, women also have less water in their bodies than men do, so even if a woman weighs the same as a man, she will have less water. Alcohol mainly resides in body water, meaning women face a higher concentration of alcohol in their water even when drinking at the same rate as a man of the same weight.
According to the National Institute on Alcohol Abuse and Alcoholism, women usually begin having alcohol-related difficulties at lower drinking levels than men do.
Social Factors
Studies show that women in their twenties and early thirties have a greater chance of drinking. Although, there is no one component of the problem that predicts if a woman will develop a drinking problem or at the age she would do it. But, there are a few life experiences that increase the likelihood of an alcohol use disorder at this age:
Close relationships: According to research, women who have conflict within their closest relationships have a tendency to drink more than women who do not. Women who have never married, live unmarried with a partner, or are separated or divorced face a greater likelihood of heavy drinking. And, a woman married to a man who drinks heavily has a greater chance than other women of drinking too much.
Sexual abuse: Women who suffered sexual abuse during childhood are more likely to develop an alcohol use disorder.
Mental illness: Heavy drinking among women is connected to depression. Also, women who have a pattern of drinking alone have an increased likelihood of developing a problem in later life.
These patterns are not consistently demonstrated among male drinkers.
Effects
Though men are more likely than women to develop an alcohol use disorder, women in many cases face more damaging outcomes, like the following:
Cirrhosis: Women and men both face outcomes like cirrhosis and hepatitis because of alcoholism, but these diseases progress more rapidly among female patients, which is why more women than men die of cirrhosis.
Cancer: Men face a lower risk of developing cancer than women who drink. In fact, excessive alcohol consumption has been demonstrated to increase the chances of women developing several digestive tract cancers.
Personal injury: Women face a greater chance of injuring themselves while drinking. However, men are more likely than women to take part in physically risky activities while drinking excessively. This is why men face a greater rate of alcohol-related hospitalization and death.
Suicidal ideation: Drinking can increase depression anxiety, both of which can contribute to suicidal thoughts. Women, however, are less likely to commit suicide than men, and most of the men who do choose to commit suicide have consumed alcohol before they did so.
It is imperative that treatment programs be prepared for the physical, mental, and social circumstances of the people they serve. In a women's rehab, patients can take comfort in knowing that every staff member is an expert in women's health. To learn more about the ways that you can benefit from choosing and attending a female-only addiction treatment program, call 888-821-1257 Who Answers?. Experts are waiting to help you.
Housed in a collection of historic homes surrounding a common courtyard, Right Step Houston nestles comfortably into the tree-lined streets of the city's hip Montrose neighborhood.
Details ›
Serenity and tranquility are elemental at this ultra-comfortable, luxury treatment center nestled at the base of Utah's Wasatch Mountain Range in Sandy, Utah.
Details ›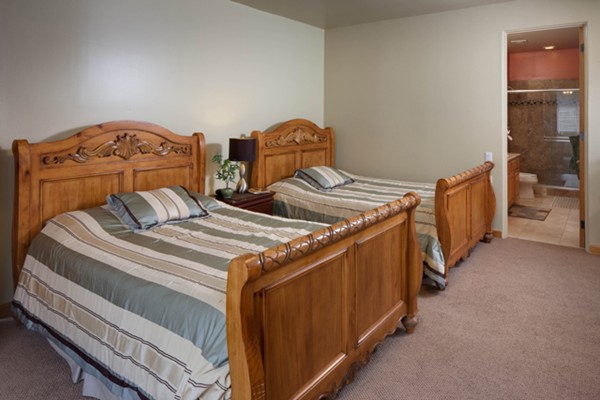 At this peaceful treatment center in upscale Scottsdale, residents learn how to enjoy all that life has to offer – without the assistance of drugs and alcohol.
Details ›